School Canteen - currently closed until further notice
 
The canteen operates each Wednesday and Thursday through the P&C. Recess and lunch orders are placed in baskets within each class and sent to the canteen each morning.

No recess or lunch orders are to be ordered at the canteen. An online ordering facility is now in place to assist early planning. Recess and lunch orders are distributed to the classes just prior to the siren and all orders must only be given to students by teachers to ensure the correct lunch/snack etc is received.

Canteen Menu
Click on the image or link below to read or download a copy.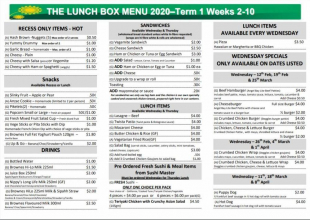 Online Canteen Orders
Click HERE to place an order online from QuickCliq Online Ordering site. This program saves time and makes it easier for the canteen to get the orders ready in time.
Telephone: 08 9237 6600
Address: 73 St John Road, Wattle Grove WA 6107