School Enrolments
Kindergarten


Children enrolled in Kindergarten are allocated positions based on a cluster model and selection criteria as outlined in the Education Act. Further information on these criteria is available from the school upon request.

Pre Primary to Year 6
Wattle Grove Primary School is designated as a Local Intake School. The school has places for students in Kindergarten to Year 6, who reside within the boundaries of the Local Intake Area, as have been determined by the Department of Education.
Click on the map below to see a large map of the Wattle Grove Primary School
Local Intake Area.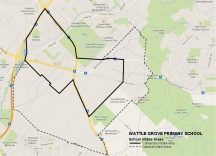 Boundary Description
C
lick here
for a full list of the Wattle Grove Primary School
Local Intake Area boundary streets and optional areas.
Boundary Map
                                                                                          
For children who do not live within our school's boundary, enrolment in Kindergarten does not guarantee enrolment in Pre Primary and beyond. Applications for Pre Primary are called for independently midway through the school year and will be considered by the Principal as per the information above.

Procedure for Enrolment
Parents initially complete an Application for Enrolment Form, then when eligibility for enrolment is confirmed, the WA Public School Student Enrolment Form needs to be completed.
You will be asked to show your child's Birth Certificate (original or certified copy) or birth extract or equivalent identity documents; your child's ' Immunisation History - Medicare Statement'; usual place of residence (for example Shire Rates Notice, utilities account (Synergy/Alinta/Water Rates), lease agreement of at least three months, proof of ownership of property, driver's licence, statutory declaration, copies of any Family Court or other court orders, and visa details (if applicable) - Principals may request a maximum of 3 documents as evidence of residential address.
 
A birth certificate or extract of birth or passport must be sighted during the enrolment process. Students will be placed in the year of study corresponding to their age group. A copy of immunisation records is also required.
 
Evidence of proof of residency within the local intake area must be provided at the time of enrolment. This should include a copy of a utilities bill or similar proving the applicant is residing at the address and a copy of a purchase or tenancy agreement.
The Principal also reserves the right to request a Statutory Declaration in support of claims made.
| | | | | |
| --- | --- | --- | --- | --- |
| Children born | Kindergarten | Pre-primary | Year 1 | Year 2 |
| 1 July 2008 to 30 June 2009 | 2013 | 2014 | 2015 | 2016 |
| 1 July 2009 to 30 June 2010 | 2014 | 2015 | 2016 | 2017 |
| 1 July 2010 to 30 June 2011 | 2015 | 2016 | 2017 | 2018 |
| 1 July 2011 to 30 June 2012 | 2016 | 2017 | 2018 | 2019 |
| 1 July 2012 to 30 June 2013 | 2017 | 2018 | 2019 | 2020 |
| 1 July 2013 to 30 June 2014 | 2018 | 2019 | 2020 | 2021 |
| 1 July 2014 to 30 June 2015 | 2019 | 2020 | 2021 | 2022 |
| 1 July 2015 to 30 June 2016 | 2020 | 2021 | 2022 | 2023 |
| 1 July 2016 to 30 June 2017 | 2021 | 2022 | 2023 | 2024 |
| 1 July 2017 to 30 June 2018 | 2022 | 2023 | 2024 | 2025 |
Telephone: 08 9453 6722
Facsimile: 08 9453 2133
Address: 73 St John Road, Wattle Grove WA 6107