School Blogsite
Our School Blog has been set up for parents and the wider community to read about and
see some of the events and activities happening regularly at Wattle Grove Primary School. It has links to class blogs, photos and video clips of activities such as assemblies, special events, incursions and excursions and internet sites of educational interest.

To get to the School Blog, please Google "Wattle Grove Blog"
Please Note: We are currently having issues with a virus in the link. It is proving hard to sort. Do not proceed if you do not have virus protection. It may be better to proceed to the class blog directly. Otherwise click on the Blog Image.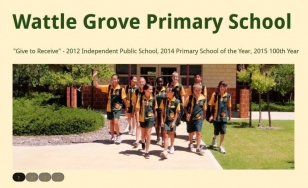 Telephone: 08 9237 6600
Address: 73 St John Road, Wattle Grove WA 6107